On 17th and 18th May David Warr led two parties along the Windrush Valley. Although the churches are well known there was a good turn out of people who enjoyed re-visiting (or some visiting for the first time) the glorious collection of little churches nestling against the beautiful River Windrush between Witney and Burford.
We began at St Mary, Swinbrook with its collection of extraordinary Fettiplace memorials (below) and its links to the Mitford family. We had the good fortune of being told a number of charming anecdotes by Clendon Daukes, a local parishioner with a wealth of local knowledge. One of these centred on the blowing out of the East window in September 1940 by a German bomb. The fragments were collected by the vicar William Boyd and incorporated in a small window in the South aisle.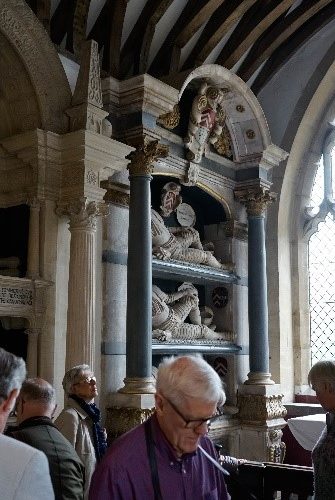 The second visit took us to St Nicholas, Asthall just to the west of Witney. We were reminded that the Manor House behind the Church was the birthplace of Deborah (the youngest of the Mitford sisters and later to become the Duchess of Devonshire and now buried at Chatsworth). An earlier occupant of the Manor House was Lady Joan Cornwall married to Sir Richard Cornwall (below). Her effigy lies under a splendid 14th century canopy in the North transept. An intriguing verge and pendulum clock mechanism survives in the North aisle.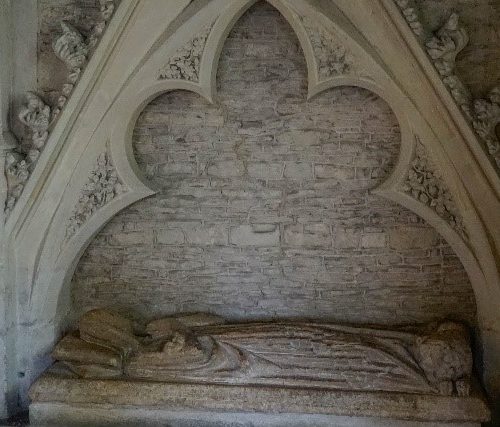 A short walk through the village took us to our lunch stop at the Maytime Inn who laid on a splendid spread. Despite the slightly chilly weather we managed a pre-lunch drink in the garden followed by lunch inside.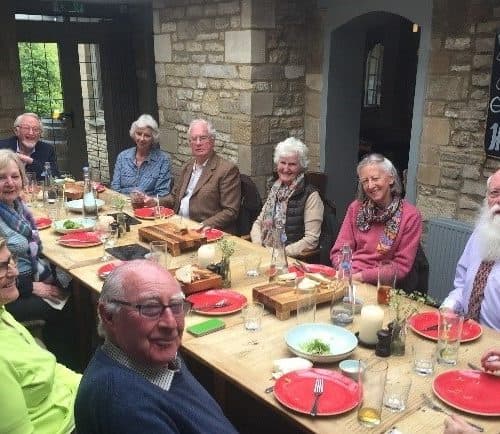 The first church of the afternoon was the delicious little church of St Oswald (main picture) standing isolated in a meadow north of the river near the village of Widford. Built over a Roman building, whose mosaic floor remains under the paving of the Chancel, this unique little gem houses wall paintings depicting St Christopher and St Lawrence.
From Widford the tour concluded at St John the Evangelist at Taynton (below). Despite its rural setting and distance from London, it transpires that not only was stone provided to Sir Christopher Wren for many London churches including St Paul's, but also expertise in the person of Taynton's master stone mason. Needless to say this beautiful late perpendicular building displays the abundance of skills available as a result of Taynton's quarry and stonemasons' skills.