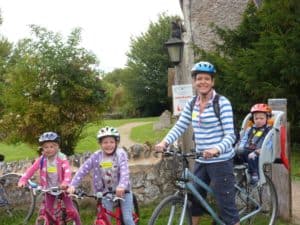 In 2017 to mark the passage of the Tour of Britain through the county on 9 September the Oxfordshire Historic Churches Trust is organising special "Ride the Tour" circular routes each incorporating a section of the Tour route. Participants are invited to follow these in their own time and at their own pace after the Tour has passed through.
There will be fun rides starting from Islip, Bletchingdon, Charlbury and Milton under Wychwood. There is also a longer ride starting from Charlbury and following the Tour route through to Shipton and back. You can of course start at other points on these routes if you wish.
Maps will shortly be available on the OHCT website with brief notes about some of the churches on the way which are waiting to welcome you. These maps will be available for future riders as well.
In addition at about 2pm after the cycle Tour of Britain has passed through Charlbury there will be a cycle rally for children covering some of the Tour route through the town calling in at the town's churches and chapels. This junior 'Ride the Tour' event is organised jointly by the Oxfordshire Historic Churches Trust and the Windrush Bike Project. There will be different routes for different age categories, and balance bikes and scooters will be eligible for the youngest route. All children who complete their route will receive certificates and prizes. You can find out more about this event here