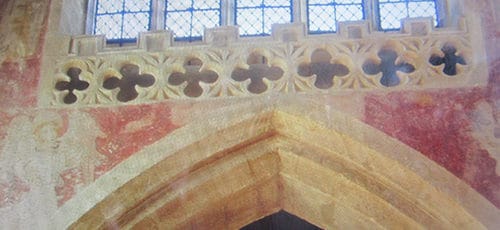 Annual General Meetings of any organisation can be heavy stuff:  you feel you should be there;  you just hope it won't go on too long; and you sit towards the back in order to escape early if necessary. There may be bad news regarding personnel and budgets, difficult issues to face, people with a bee in their bonnet – legitimately or otherwise.  You might get a cup of tea.
Now, the first Annual Meeting of "OHCT 2016" (renamed due to constitutional changes) at St Peter's, Hook Norton was another thing entirely:  we had fun – good weather, good news about OHCT progress, lots of wonderful church architecture to look at and a tea worthy of that Great British Bake-Off.  
The only blemish in the OHCT good news was RAIN, which washed 13% off our Ride and Stride income in 2016, but we still raised £120,000 – yours truly by scuttling round 36 churches in Venice (in hot sun) – and we gave 25% more in grants than last year, gained more members and enjoyed a fantastic programme of events.
After the meeting we then had lovely visits to three local churches who have had grants from us:  a noisy, busy, full-of-life, Grade II 1781 Baptist chapel (the first Baptist Meeting House in the UK, reputedly) cherishing its 18th century features but which had had its later pews and pulpit removed, creating the sort of space necessary these days for family worship and community use.
And then to the site of a Roman temple – yes, St Giles, Wigginton was built on top of it – using some Roman bricks in the 14th/15th century tower, what's more.  The two medieval tomb monuments of unidentified, faithful Christian people, one a knight, were a reminder of our role in keeping these buildings going, not only for the future but in tribute to those who have gone before.
Then a surprise;  the distinguished retired headmaster of Stowe, Christopher Turner, with a newish dog-collar on, showed us round the 12th-century-with-Norman-origins St Andrew's, Great Rollright and yes, he was an absolute expert on architectural history;  what an exquisite building!  It had had the usual Victorian make-over but the very unusual Green Woman looking down from the westernmost window has seen it all, and expects more before she's done…
We went back to St Peter's, Hook Norton, which not surprisingly given their proximity had some features in common with St Giles.  The wonders here were medieval wall paintings and the 11th century font carved with both pagan and Christian symbols.
The 5* tea (thank you, St Peter's) was followed by Evensong – said, simply, solemnly and befittingly.
We'd like to thank Elizabeth McLeod and Patrick Boyd Maunsell for organising this great event for us.